,

The Southside of Chicago's "Steel Tip" Dart League since 1981
Mailing Address: 10509 S. Whipple St. Chicago IL 60655
Phone: 773-445-7700
E-mail: office@southsidedartleague.org
Congratulations to the Fall Season 2022 Winners and Runner ups
Silver - Champion Double Play Dart Destroyer (Lou Gain,Ron Johnson, Trevor Buboltz, Mike Copeland, Kirk Forseth, Kevin Jinkensen, Mike Strabavy)
Silver- Runner Up The Lost Boys of Double Play (David Loepke, Billy Downs, Josh Brand, Ryan Galvin, Alex Loepke, Liam O'Connell, Ryan Pryor)
****
Nickel- Champion Rosa's (CJ, Jim Coffey,Vince Bentivenga, Charlie Dipsensa, Miller Haag, Marge Heintz, Karen Huffman)
Nickel- Runner Up McNallys Bird Gang(Pat Jedrey, Dave Hodgeman, Kevin Durkin, Frank Hodgeman, Rob Lewendowski, Brian Newman, Luke Mullang, Dan Reilly, Steve Walsh)
Congratulations to the Fall Season 2022 Wednesday Winner and Runner up

Champion Hippos (Karen Huffman, Marge Heintz, Dan Ernst, Frank Hodgeman, Sharon Huffman, Ron Johnon,Michelle Knieps CJ Llamendo, ,Karen Weiland)

Runner Ups Shortstops Try Not to Suck (Ken Nasadowski, Carolyn Nasadowski, John Benware, Charlie Dispensa, Kathy Dugan, Marlene Gannon, Dee Sroka, Keith Wood)
***
37th Annual SDL Cup - MVP's Margie Heintz and Nick Georgeson.Congratulations!
See you in 2023!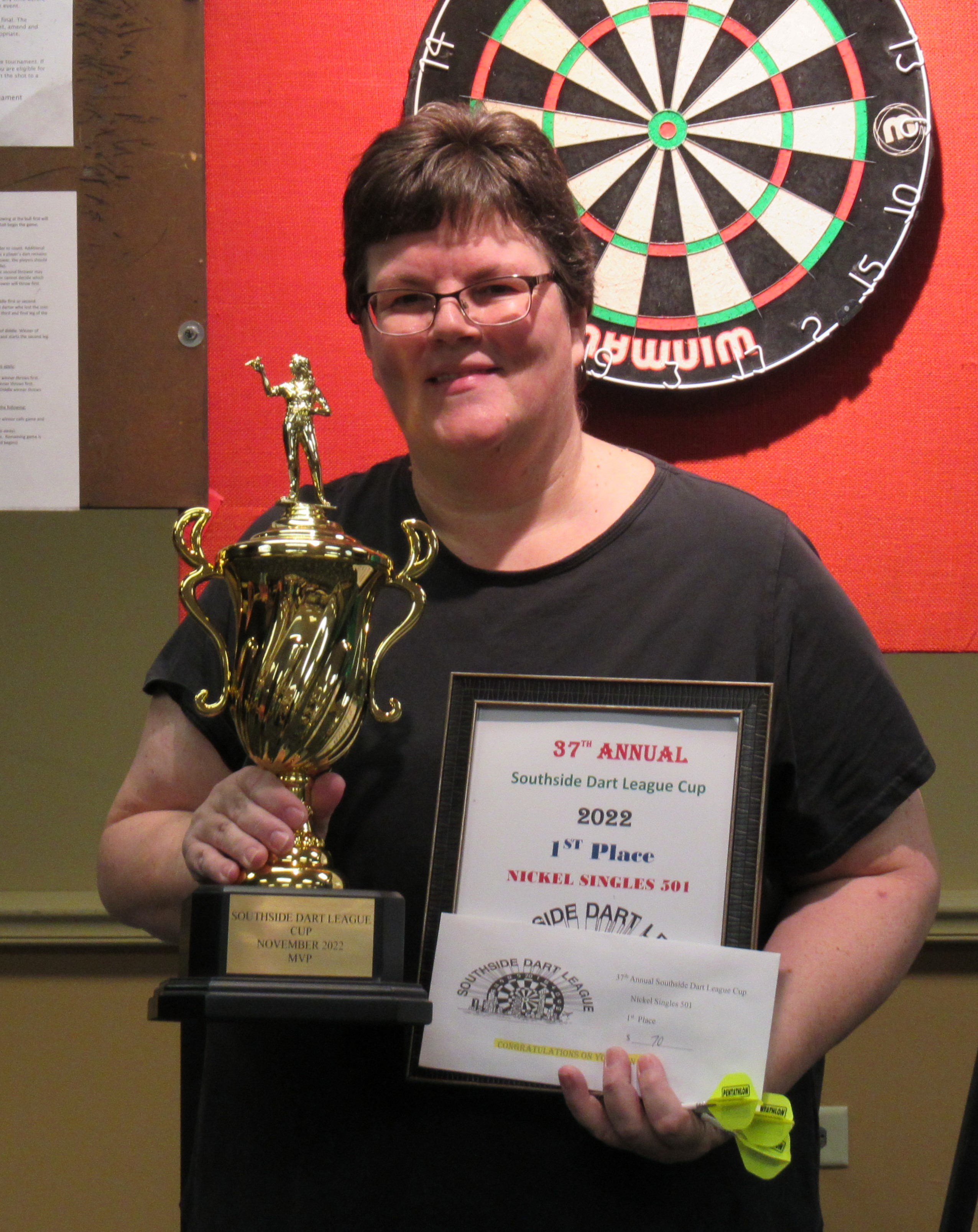 ASC 2022
Southside Dart League 20 Windy City Darters16 -
Thanks to Di's Den and the Windy City Dart League for hosting the event.
NICKEL DIVISIONS: UPDATED MATCH FORMAT AND START TIMES
Nickel Divisions will be returning to a 9-game format, with start time 7:00 PM.
The old 7:30 start time is available, but only when a team captain prearranges it with the opposing captain. Rearrangement must be accomplished before match date.
For a 7 PM match; forfeit begins at 7:15. Forfeit begins at 7:45 for 7:30 matches.
As always, each captain's packet contains the list of phone numbers for the captains in your division. Teams only need 2 players to start the match, PLEASE KEEP SPORTSMANSHIP IN MIND!
Summary:
-Return to 9-point format
-New start time 7, unless captains arrange 7:30 start the day before.
-Forfeits begin at 7:15, for matches scheduled for 7.
(These changes were adopted by a vote of captains at the Winter Banquet.)
Play-off positions should be on the recorder each week by Thursday night. After you have
won for the evening please call your score in as soon as possible. The 1st place teams
will have the home advantage during the first round of play-offs. During all other rounds
the higher division/place will have the home advantage.


Send in your individual ratings records(IRR) by December 1st so your MVP will receive their awards at the BANQUET
You can mail it to the address below, or scan it and send to the e-mail below. You can also try to send it to
the e-mail as a photo, just make sure it is readable. Call the league if you have any questions. Blank IRR's are
available on the web page.

Want to join a team or get more information about the Southside Dart Steel Tip Dart League
e-mail us at office@southsidedartleague.org or leave a message at 773-445-7700
**************
Captains Information
Playoffs - To be playoff eligible a player must have
played a minimum of 5 games over 5 weeks. Any
questions should be directed to the board by phone
or e-mail at office@southsidedartleague.org

Play-off tie breakers: 1) Head to Head Record of Teams Involved. 2) Singles Record vs. Teams Involved. .
3)Away Record vs. Entire Division. 4) Coin-Toss

Scores must be called in to 773-445-7700 or emailed to office@southsidedartleague.org by
11:00 am the day after darts. There will be a 1 point penalty per week until the score is called in.
When calling in high darters please spell there last name and let us know which team they play for.
Please confirm the spelling of
your team name on the standings - that is
how it will appear on any awards you may win.
Darts Eligible for Call in or High Scores:
A 140 or more in one turn in 301 or 501
Doubled in with a 101 or more in 301
Doubled out with a 101 or more in 301 or 501
4 or more bulls in Dirty Cricket
Trip Trips in Dirty Cricket
Please report what team they play for